What are the Benefits of Drug Rehab Centers?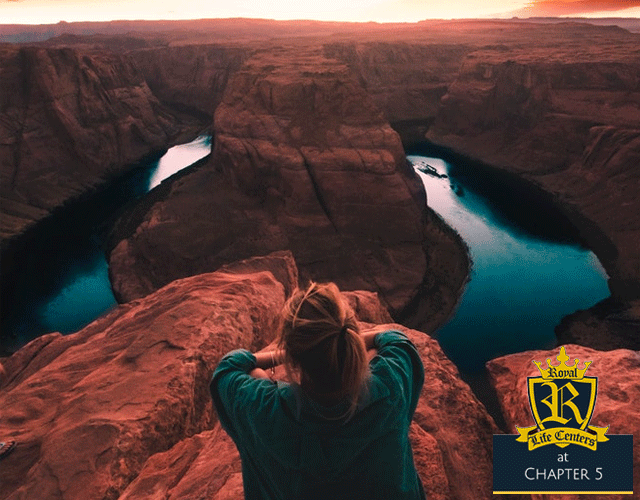 March 8, 2019 5:17 pm
-
Seeking treatment is a hard decision when you don't know what to expect, however, addiction treatment is the best avenue to find help for substance use disorders. Drug rehab centers have the knowledge and understanding needed to help those with substance use disorders become well again. Drug rehab centers like Royal Life Centers at Chapter 5 offer various types of treatment that provide our guest's with the tools they need to build a happy, healthy, and successful life in sobriety. The benefits of drug rehabilitation are endless, and although admitting you need help is hard, it's the best thing you can do for yourself.
How it Works
Royal Life Centers at Chapter 5 provides comprehensive addiction treatment with a variety of treatment options designed to follow guests through the recovery process. Our programs prepare guests for a life free from substance abuse. Drug rehab centers should offer medication to stabilize mental health, when necessary, along with therapies for optimum behavioral health. Therapy is a crucial part of addiction treatment, as guests will learn about themselves, the root of their substance use disorder, healthy ways to manage emotions and stressors, and more.
Drug rehab centers usually offer treatment at different levels of care. An inpatient level of care means that the guest lives in the treatment facility, usually with access to medical professionals on a 24/7 basis. Outpatient rehab means the guest attends outpatient services, usually from sober living or from their home. Levels of care speaks to the amount of care the guest receives. An inpatient program is beneficial to guests in early recovery, as these guests have full access to a live-in support network. Attending an inpatient program is actually proven to increase your chances of maintaining sobriety.
Royal Life Centers at Chapter 5
Our rehab facility at Royal Life Centers at Chapter 5 only uses the best practices, maintaining the highest standards in addiction treatment. We subscribe to a holistic approach, treating the mind, body, and spirit. Our services at Royal Life Centers include: medical detox, residential inpatient, a partial hospitalization program (PHP), an intensive outpatient program (IOP), outpatient program (OP), sober living and graduate housing. Royal Life Centers at Chapter 5 offers a residential inpatient program, which is a 2-week program to continue the substance abuse treatment started in medical detox. We use therapies that include individual therapy, group therapy, adventure therapy, activity therapy, and equine therapy.
Therapy
Guests who attend addiction treatment are fortunate, and can reap the benefits of a therapeutic environment. Our guests attend therapy in both individual and group settings. Therapy is vital in drug and alcohol treatment, because it allows for self-discovery, uncovers the root cause of substance use disorder, offers invaluable support from other peers and staff, and teaches how to prevent a relapse, among other things.
Support
Support is notably one of the most significant benefits of entering a drug rehab center. Upon arrival to Royal Life Centers at Chapter 5, guests will receive an overwhelming amount of support from staff and their peers. The understanding that our support carries, creates a truly unique experience for any guest in the recovery process. Often, those who struggle with drug and alcohol addiction, are not used to being understood or supported. Alcoholics and addicts carry a lot of shame, which Royal Life Centers at Chapter 5 wishes to restructure.
Often, drug rehab centers have staff who are also in recovery from alcohol and drug addiction. The staff members in recovery can offer advice backed by first-hand experience, as well as being a living example of hope and change.
Self-Discovery
Royal Life Centers at Chapter 5 offers many therapeutic experiences to foster self-discovery. Through individual therapy sessions, guests will be able to gain insight about themselves, their strengths and weaknesses, what they enjoy, etc. Guests also participate in group therapy sessions. We offer many different types of physical wellness therapies, like adventure therapy, activity therapy, and equine therapy. All of these physical wellness therapies can provide guests with an opportunity for spiritual growth, as they discover activities that can truly bring them peace, serenity, and happiness.
Royal Life Centers at Chapter 5 encourages guests to find things that bring them joy. We understand that often times, alcoholics and addicts feel like they do not know themselves after removing the substance from their lives. We urge guests to participate in therapies that will allow them to discover themselves. Our goal at Royal Life Centers at Chapter 5 is to provide guests with the tools they need to build a happy, healthy life in sobriety.
Safety
Every treatment center should be a safe-place for those in recovery. The facility itself should be seen as a secure environment to address concerns and become vulnerable, teaching those in recovery to open up without fear of judgement. Having a population who understands you is comforting, and empowers guests to share and practice vulnerability. Drug rehab centers offer a safety net in recovery; teaching how to build and maintain healthy relationships, use interpersonal skills, and become interdependent are all benefits of addiction treatment.
Accountability
Living in a treatment facility provides healthy accountability for guests. In early recovery especially, guests do best with the guidance they receive to make healthy choices, support one another, and practice living a life free from the constraints of alcohol or drugs. Having regular drug tests and nightly check-ins also is a great sense of accountability. Community-style living also encourages guests to hold each other accountable.
Life Skills
Often in active addiction, guests lose sight of important life skills. Royal Life Centers at Chapter 5 focus on the importance of relearning life skills, like creating a routine, eating three balanced meals each day, and practicing self-care. Drug and alcohol addiction disrupts every aspect of life, so Royal Life Centers at Chapter 5 teaches guests to bring back a healthy lifestyle one step at a time. We like to set our guests up for success, giving them the support they need to build themselves back up.
Outpatient Rehab Programs
Royal Life Centers offers outpatient care, in addition to the residential inpatient program at Royal Life Centers at Chapter 5. Royal Life Centers offers a couple different types of outpatient services. Royal Life Centers has a 9-week program that transitions guests from our partial hospitalization program (PHP) to an intensive outpatient program (IOP). After completing our 9-week program, guests are able to attend our outpatient program. First-time guests are also able to join our outpatient programming, which offers therapy services on either a weekly, bi-weekly, or monthly basis.
Because Royal Life Centers is a comprehensive addiction treatment center, we offer treatment services that correspond to each stage of the recovery process. All of our programs focus on treating guest's mind, body, and spirit. Our goal is to prepare each guest for independence, giving them the resources and insight to build their lives back up, with confidence in lasting sobriety.
If you or a loved one is struggling from substance use disorder, please reach out to our addiction specialists at (877)-RECOVERY or (877)-732-6837. Our team is available to speak with you 24/7.
For a list of locations and services, please follow the respective links.